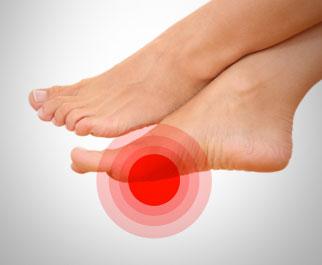 Diabetes, a group of diseases marked by high levels of blood glucose, affects 26 million people in the United States. According to the U.S. Centers for Disease Control and Prevention, diabetes-related complications may present initially in the foot.
At Cherrywood Foot Care, we know how important the proper identification, treatment and maintenance of diabetic feet is. Our team of specialists have countless hours of experience in diagnosing and treating the many associated ailments and conditions, from tingling and burning neuropathy to weakening Charcot foot deformities.
We can spot these time-sensitive problems and address them accordingly. Additionally we believe that education can also be a useful weapon in the battle against diabetes and diabetes-related foot conditions. The following is a short list that can help you better equip yourself with the knowledge and understanding that is so crucial when addressing this disease:

Why is diabetic foot care so important?
About 15 to 20 percent of diabetic patients also suffer from severe foot problems. The cost of treating diabetic foot problems can be daunting, growing to more than $1 billion annually, according to recent health studies. Fortunately, patients can take positive steps to prevent many types of foot complications that arise from diabetes. We recommend diabetic patients inspect their feet daily or have a family member do it. Staying informed about appropriate foot care and proper shoe gear, as well as regularly visiting our skilled podiatric surgeons at Cherrywood Foot Care will go a long way in keeping the symptoms of this disease manageable.

What types of foot problems can I encounter?
Diabetes is a disease that may affect many systems in the body. In the feet, many problems arise due to poor circulation of blood flow, decrease sensation due to nerve damage, and slower healing ability for infections or open sores. Some examples of foot problems may include:
In the skin:
dry skin causing cracks or cuts
skin discoloration causing itching and irritation
open sores called pressure ulcers that may get infected or can be difficult to heal
In the toes:
thick fungal toenails, making it difficult to wear shoes
burning, sharp pains in your leg, feet, or toes that interfere with your sleeping
cramping pain in the legs when walking due to poor circulation
gangrene of the toes or foot that may lead to amputation
Foot Deformities:
bunions, hammertoes, heel spurs, ingrown toenails, and other foot deformities all have more of an increased risk in foot complications in the diabetic patient
vague ankle pain upon walking, running, or jogging

How can the doctors at Cherrywood Foot Care help?
It is important that one of our doctors provide a thorough evaluation of your feet. In addition, we will educate you about proper foot care as well as the basics of proper shoe gear. At Cherrywood Foot Care, your health is our number-one priority.
An examination may entail:
exam of skin and toenails
checking your pulses for circulation in the lower extremity
examining muscle strength, movements, range of motion of your feet and ankles
exam of foot sensation
exam of foot wear
exam of bunions, hammertoes and other possible foot deformities
Early consultation and treatment with the doctors at Cherrywood Foot Care is an important medical decision for the diabetic patient. Treatment may entail conservative measures, such as debridement of toenails, corns and calluses; prescribing custom-made shoes; prescribing medications; care of open sores; and proper education about foot care. Surgical measures may also be involved to ensure that foot deformities do not progressively worsen and create further complications for the patient.
If you have any questions regarding diabetic foot care, please call or e-mail CherrywoodFootCare@gmail.com with all of your questions so we can help you stay on your feet for a lifetime.
Contact Us