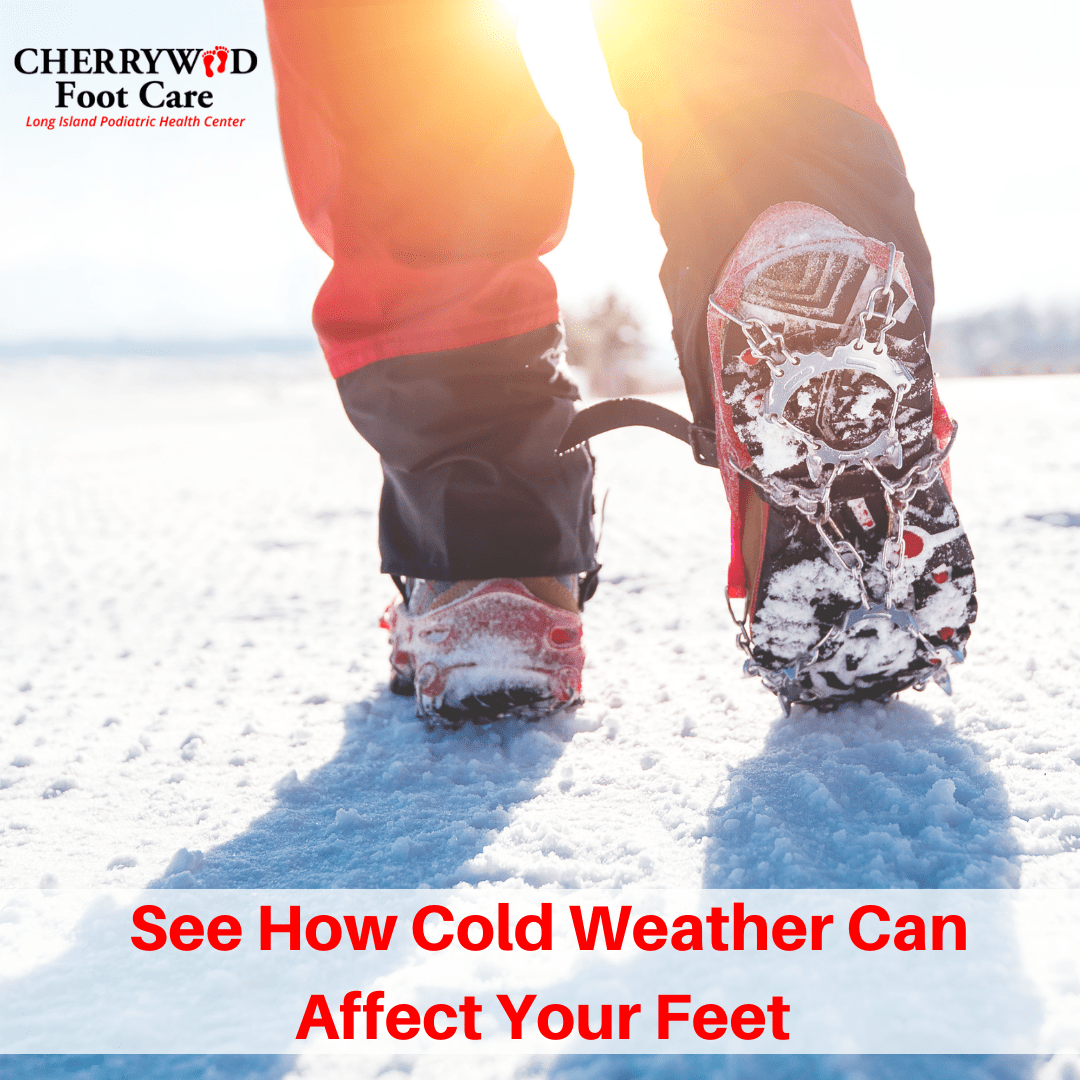 12 Dec

Foot Pain Caused By Cold Weather

Do your feet start to hurt as the temperature drops? There are several reasons why this could be happening. At Cherrywood Foot Care, our experienced podiatrists are well-versed in diagnosing and treating different foot ailments. Please continue reading to discover more about cold-related foot problems and how to prevent them!
Why Do My Feet Hurt When It Is Cold?
There are various reasons why your feet can hurt as the weather starts to change. Colder weather can cause aches and pains in several other areas of the body. Winter weather often dries out skin and nails, making them more weak and susceptible to injuries and infection. The cold can also impact circulation, which can be especially damaging for feet. Ill-fitting footwear is one of the biggest culprits to cold-related footwear, as wearing shoes that are too tight can lead to painful conditions like bunions, hammertoes, and blisters. Some of the other common foot problems we see during the winter tend to include:
Athlete's Foot – This condition is caused by excessive moisture from sweaty, bundled up feet. Wearing moisture-wicking socks and letting your shoes dry completely can help you prevent this issue.
Fractures – Ice and slick terrain lead to an increase in slips and falls. Wear proper footwear when bearing the elements and use caution when walking or exercising on slippery surfaces.
Chilblains – Chilblains are a condition caused by exposure to cold and lead to painful inflammation of small blood vessels in the feet. Make sure you are protecting your feet and wearing warm socks and footwear this winter.
Winter weather can be unpredictable, so you may be unprepared to face the elements at times. Wearing supportive footwear and keeping your feet warm and dry are among the best ways to prevent cold weather-related foot pain and keep your feet happy and healthy year-round. If you are battling foot pain, Cherrywood Foot Care can help you manage your pain so you'll be back to health well before spring.
Contact Us
Cherrywood Foot Care is here to help you keep winter foot pain at bay! To learn more about combating cold weather-related podiatric issues, be sure to contact us today and request an appointment!