Spraining your ankle can be a common but painful condition. It is caused by turning your ankle in an awkward position due to rolling or twisting it. The healing process can take several weeks or even longer. While there are a number of different reasons you may have sprained your ankle, it's important to keep in mind that being overweight can complicate the strain even more. If you're experiencing a great deal of pain due to an ankle sprain, it may be time to visit a podiatrist near Massapequa. At Cherrywood Foot Care, we can help establish a treatment plan specifically designed for your condition and will get you fully recovered!
An ankle sprain can be the result of a fall, imbalance, or accident. Since an ankle sprain results in your ligaments being stretched or torn, there are some specific symptoms, aside from pain, you may notice. If you are experiencing any of the following, contact our podiatrist near Massapequa: 

Swelling

This can occur due to the increased fluid in your tissue

Throbbing
Bruising
Redness
Warmth

Due to increased blood flow

Restricted Range of Motion
Tenderness
Ankle Instability
How can a Podiatrist near Massapequa help?
It is crucial that you treat an ankle sprain so that you can ensure proper healing and a full recovery. That is why you'll want to see a podiatrist as soon as possible so they can walk you through an effective treatment plan. This can include medical and physical advice as well. They will determine whether you'll need any other therapies to speed up your recovery. At Cherrywood Foot Care, our exemplary staff can eliminate your discomfort and get you back to doing the things you love! Dr. Joseph Burke and his team of experienced professionals have been serving the Nassau County community for years and are always offering top-quality care and the latest podiatric advancements to our patients!

If you've been suffering from a sprained ankle, it's time to contact our podiatrist near Massapequa and get the care you need! To make an appointment, call us or make an appointment on our website today!

At Cherrywood Foot Care, a podiatrist near Massapequa, we know that identification and recovery is key to repairing an injury. Toe pain can be a huge detriment to our everyday lives, putting us out of operation and off our feet. Sometimes our bodies can even become painfully deformed from overuse or impact. If you are suffering from toe pain, and observe an unnatural bend in one or more of your toes, you may have mallet toe. Our podiatrist near Massapequa will assist you in properly identifying this injury, but here is some information to help kickstart your healing process.
What is Mallet Toe?
A mallet toe occurs when the joint at the end of your toes can't be straightened and exists in the resting state of an uncomfortable bend. The tip of the toe is usually turned downward, with the bottom of the toe pressing against the bottom of the shoe as the bend grates across the top. This occurs when wearing shoes that are too small in the front for a comfortable position, or while wearing shoes that force unnatural amounts of pressure onto the toes like that of high heels. Removing the shoes will relieve some of this pressure temporarily, but the injury still requires medical attention from our podiatrist near Massapequa as leaving mallet toe untreated can further stress the bend of the toe.
If you continue to wear constricting footwear or suffer from a sudden impact, the tendons of the toe will eventually tighten to their new crooked position and become stuck in that placement. This 'rigid mallet toe' causes the uncomfortable misaligned bend. Additionally, mallet toe can develop as a result of arthritis, muscle, or bone imbalances, and, of course, sudden impact. However, it is possible that mallet toe can occur without stress or overuse.
The symptoms of mallet toe include:
Swelling
Redness
Toe ulcers (typically only for diabetic patients)
Calluses or corns
How can a Podiatrist near Massapequa treat it?
We highly advise consulting our podiatrist near Massapequa to address your mallet toe. Disregarding your symptoms or attempting to rectify the situation on your own could lead to even further complications and allow the injury to progress further unimpeded.
You can take a few steps at home to reduce pain at home before your consultation. Our goal in treating mallet toe is to not only move the toe back into place but to reduce the amount of pressure and friction placed upon it. Some of these treatment options include:
Cushioning the toe to prevent friction.
Wearing proper footwear with wide toe boxes and breathable fabric.
Reducing the time spent in heels and other uncomfortable footwear.
Keep calluses thin (whether through foot treatments or items like pumice stones).
Stretching the toe with muscle exercises.
Cherrywood Foot Care offers a wide variety of carefully personalized podiatrist treatments for Massapequa and the Nassau County area. We offer programs that will help you remedy mallet toe in a comfortable, knowledgeable environment. To see what we offer, contact us for more information regarding mallet toe treatment.
Flat Foot Correction near Massapequa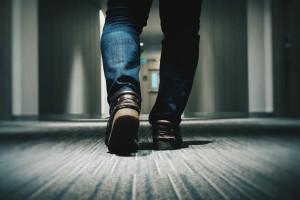 A flat foot is a condition describing a foot arch that has been lowered. Typically after overuse, the tendons holding your foot upright become loose causing your foot's arch to lower. While there are no immediate concerns with having flat feet, it affects posture and may cause feet to ache more easily, if enough pressure is put on them. Since adult feet are more developed, flat feet are more common in overactive children than in adults.
Flat feet cause direct pain in the foot as well as lower leg pain when standing for long periods of time. When someone who is flat-footed feels pain, it is because the foot is being impacted harder when it meets the ground causing more pressure on the foot itself and the lower leg. Should anyone who is flat-footed feel chronic pain, consulting a podiatrist near Massapequa be their first course of action to prevent damage to their foot's tendons.
Flat feet can be caused by a variety of factors including weight, diabetes, pregnancy, nerve problems, tendon irritation or inflammation, rheumatoid arthritis, and birth defect. Whatever your cause, the pain that flat feet is not something you should live with. Correcting flat foot in an adult could require surgery or an exercise regime depending on the severity of the condition. If someone has been experiencing pain due to flat-foot it is more prudent to go through surgery or consult a podiatrist near Massapequa before attempting to correct the condition via exercise and unwittingly bring more strain to your foot.
If you are looking to correct flat foot then look no further than Cherrywood Foot Care. Depending on the severity of your flat foot Cherrywood Foot Care located on Long Island offers five different surgical procedures to correct the condition and has an experienced staff of doctors conducting the procedure. Cherrywood Foot Care has been voted Long Island's best podiatry clinic for six consecutive years. See how they can help you today!
The Cherrywood Foot Care Facility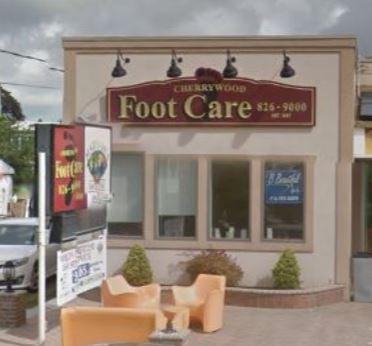 At Cherrywood Foot Care, we believe our patients deserve to have the information needed to make good choices about their foot and ankle care. Our goal is to educate each patient and begin a relevant treatment program with the highest quality of care available. Whatever your health concerns may be, you can rest assured that our doctors and staff will work with you to provide the best treatment available. We take pride in providing you with a comfortable office experience. Please call our office today to schedule an appointment (or book it yourself online).
Review

Overall Rating





How do others rate this location?
Clinic Name
Service Offered
Social Share