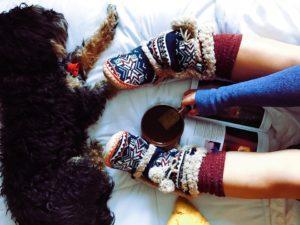 With the cold weather underway, you may find yourself trading in your flip-flops for boots. But what about when you're indoors? Whether you're relaxing at home or at the office, you may wonder why your feet are always cold. But what you do not know is that having cold feet may not always be caused by cold weather, but also more serious health problems as well. The Bellmore podiatrists at Cherrywood Foot Care can help you with your cold feet.
There are all kinds of medical problems that can cause cold feet, including diabetes, poor circulation, anemia, and hypothyroidism.  Our Bellmore podiatrists can treat all kinds of problems relating to diabetic foot pain, including having cold feet, which is usually caused by nerve damage. If your cold feet are caused by something other than diabetes, we can treat those problems, as we treat a wide variety of all types of foot conditions.
Another reason for your cold feet may be related to something known as Raynaud's disease. Raynaud's disease causes numbness in the fingers and toes, making them feel cold very easily. It is more common in women than in men and mostly occurs in people who live in colder climates.  Although it is usually not disabling, your Bellmore podiatrist will tell you how to treat it, as it sometimes may be caused by something else, such as:
Carpal tunnel syndrome

Smoking

Injuries

Connective tissue diseases

Tell your doctor about any of these problems, and they can help you. A common way of treating your cold feet is wearing warm, toasty socks. If this does not work, you may have a more serious problem. Our Bellmore podiatrists at Cherrywood Foot Care can find the root of the problem, and help you stay comfortable for the winter.
Social Share