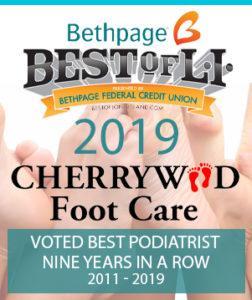 For the ninth year in a row, Dr. Joseph Burke of Cherrywood Footcare has been voted Best Podiatrist on Long Island and is happy to be a top-rated podiatrist in Nassau County! Every year, Bethpage Federal Credit Union sponsors contests across a wide variety of industries in order to find the best businesses on Long Island. With votes held in virtually every type of business, the competition is strong, and the award is prestigious. Dr. Burke continues to lead with his strong knowledge of podiatry, and top-notch staff to help patients with a wide variety of podiatry needs. There are many factors that contribute to Cherrywood Footcare's nine-year win of Best Podiatrist on Long Island. All of which aim to ensure top quality foot care for all patients. To receive this award, Dr. Burke competed against several other podiatrists in the Long Island area. Local businesses are nominated by customers, and the winners are voted on by members of the community. This award serves as a great way for community members to engage with local businesses.
To ensure patients receive the latest, most effective podiatry treatment methods, Cherrywood Footcare uses the most up-to-date equipment and treatment. This includes a state of the art operation room for many different surgical procedures, powerful X-Ray machines, and various laser treatments specifically for the feet. Cherrywood also specializes in many different types of foot care. These include diabetic foot care, orthotics fitting, ultrasound and x-ray exams, and shockwave therapy for the feet. These are just some of the footcare services Cherrywood Footcare of Bellmore and our podiatrist in Nassau County has to offer.
Our Podiatrist in Nassau County
To learn more about the Best Podiatrist on Long Island take a look at Cherrywood's website, or contact via phone for any further questions, or to make an appointment. The office is located on Jerusalem Avenue in Bellmore, but it serves all of the following communities:
Voting For 2020 Best of Long Island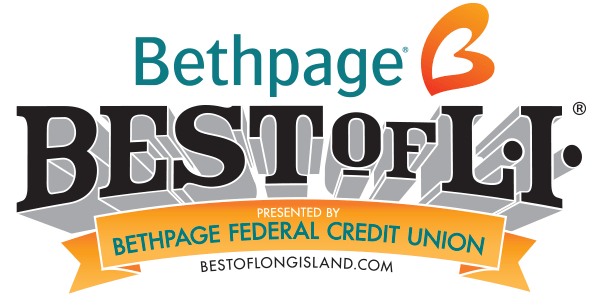 Scroll down the subcategories, look for

"Podiatrist,"

and click it.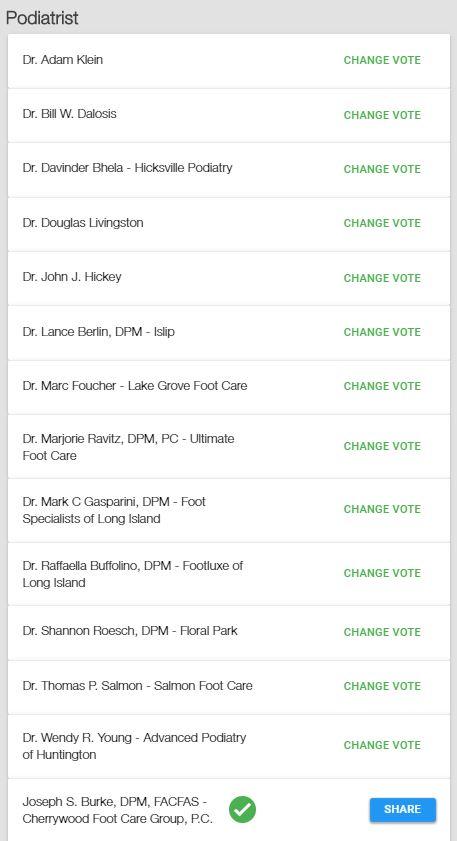 The list of nominated podiatrists will be on the list. Look for Joseph S. Burke, DPM, FACFAS – Cherrywood Foot Care Group, P.C, and hit the

"Vote"

button.
When you hit the

"Vote"

button, it will ask for you to register with an email.
After you click

"Continue,"

fill out your full name, postal code, and favorite BOLI categories.
Congratulations! You've successfully voted!
Review

Overall Rating





How do others rate this location?
Clinic Name
Service Offered
Social Share